Submitted by Chris Bourne on 13 August, 2009 - 06:07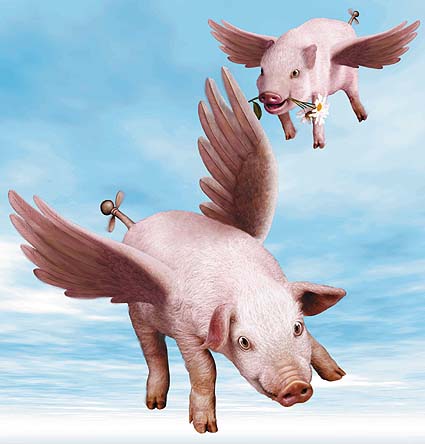 Bird flu, swine flu, whatever next?
So what exactly is going on with this so called 'swine flu'? Doesn't it all seem a tad strange to you? Like something doesn't feel quite right? Do you get that queasy feeling around the level of the solar plexus? Well I certainly do. Back in April, way before the first cases of swine flu were reported, Benevolent Consciousness drew my attention to several video reports on youtube about some very curious goings on in the USA. It seems preparations have been made for this curious flu pandemic long before the first cases were ever recorded...
Genetically engineered?
Whilst you're on youtube, you might check out a whole host of investigative reports strongly suggesting that swine flu was genetically engineered from several other strains of flu including bird flu. Check out this one for example...
Of course there are those who wish to glamorise and spread fear, whilst at the same time, there are many others with very grounded and compelling points of view. Doesn't it all seem a little strange to you that this 'pandemic' suddenly appears and then hey presto - just a short while later we get the vaccination?
I know from direct experience that normally when a drug company is developing a vaccine for a particular virus, it can take years of testing before it is allowed onto the market. Not in this case so it seems.
And now, on both sides of the Atlantic, there's talk of making the vaccination compulsory - beginning with school children. It seems treatment is being forced through when there is a growing body of evidence that the actual effects of the vaccine can be far worse than the flu itself. Check out these articles for example in the UK's mainstream press...
Drug to combat swine flu leaves 1000 patients suffering
GMTV presenter: 'My daughter almost died after taking Tamiflu'
So if this flu is genetically engineered, the obvious question is who would have done it and why?
Well it's the same of culprits of course, Money, Greed and Power. Not so long ago, the Bush administration told the American people there could be up to 2 million deaths in the US alone from the Asian Bird Flu pandemic. This hoax was then used to justify the immediate purchase of 20 million doses of the drug Tamiflu at a price of $100 per dose. That amounts to a staggering $2 billion!
And who produced the drug? A company called Gilead. Interested to know who the Chairman of the said company was at the time? The then Defense Secretary Donald Rumsfeld who personally benefited by over $1 million as the share price in the company rocketed. You might like to check out these articles...
http://money.cnn.com/2005/10/31/news/newsmakers/fortune_rumsfeld/?cnn=yes
http://www.globalresearch.ca/index.php?context=viewArticle&code=+ME20051...
So yes, fear makes a small but powerful elite in this world very wealthy indeed. And of course fear can be used to control entire populations - which is almost certainly one of the hidden agendas.
So what's the real solution?
Like others, I've long spoken of an Opposing Consciousness prevalent in our society that has a very specific goal: to control populations for their own personal benefit. To me, this is just another example adding weight to my case.
However, UNLIKE others, I am not at all advocating fighting the system. The system itself is too well embedded. There are simply too many followers invested in its continuation.
Our approach here at Openhand is not to be drawn into the drama; it is to transcend it. Just as there is an acceleration of consciousness all around us, there is also an acceleration of control. In the years ahead, we're going to see many such fear spreading scandals. And if we engage in the illusion too heavily, we lower our vibration and get drawn into the density - this of course is the very purpose of Opposing Consciousness. It does not want us to be free.
The real destiny of humanity is not here in this plane of consciousness. It is in the next higher paradigm. So let them fight for control of something which is well past its sell-by-date anyway. Let them make their money and try to control but let's not be drawn onto their playing field. Let us stand calmly, surrendered in our truth - whatever they come up with next. As quoted in the Tao Te Ching...

The Generals have a saying:
"Rather than make the first move
it is better to wait and see.
Rather than advance an inch,
it is better to retreat a yard.
When two great forces oppose each other
the victory will go
to the one that knows how to yield"
Remember, pigs may never fly, but we most certainly will!
Chris
Openhand Foundation
empowering authentic beingness
http://www.openhandweb.org