A Bright New Openhand Future - Guaranteed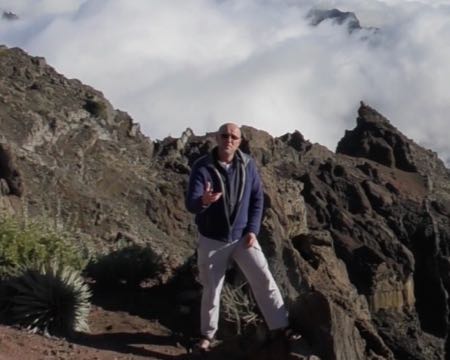 These last 4 weeks, following the NewYear Facilitator Course (see La Palma Pioneers), I've been tucked away at a quiet La Palma retreat centre, and taking time to explore the island. It's been an amazing opportunity to truly settle into my core vibe and really feel me. I've made an amazing connection with the Openhand Higher Dimensional Team, and to "Isla Bonita" (what the locals call the soul of the island). It's something I'll be writing about in the months to come. The Team have come here to initiate, then to facilitate, this Great 5D Shift that is now gathering apace on the Earth. And I needed to be sure I had the absolute fullest alignment with that in order to fulfill the Openhand mission. I feel well geared up for that now...
Climbing that Spiritual Mountain is never easy!
Many of you out there in the Openhand Community have been sending well-wishes and inquiring as to how I'm getting on - thanks folks! Actually, although its a beautiful island, being here has been far from easy. Having stepped out of a close 11 year relationship, and also having suddenly left behind the place you know as home, it did indeed stir up a lot of internal emotion. There was a good deal of grief to process. Which in itself can create uncertainty and doubt as to the way forward. But I focused on that and worked through it in classic Breakthrough style, which helped me emerge solidly out of the other side of the tsunami.
And there's been a fair bit of Opposing Consciousness to deal with too. Even though this Island feels very much like a hole in the matrix - a high vibe oasis - nevertheless OC always tries to derail a venture bringing forth a high degree of truth. Somehow they got channeled here; my sense was through someone's misaligned thoughts - easily done if there's some subtle resentment or jealousy. You see that's the point with OC - most people don't realise just how active it is in their creative thought processes, just how subtle, clever and deceptive it is. You only really come to see it when you work hard to align yourself with the flow - it's only then that you pick up the deceiving patterning of misaligning distortion. We have to get real, this intervention is a omnipresent facet on earth. When you get real with it, you can work to unravel it from your process (here's how). How it visibly manifested, was in looking for a place to live here full-time. I was able to locate three good potential villas with various agents, and was told to return once appointments had been made to view. But in the space of just a few hours, all three had been suddenly snapped up! Guidance confirmed for me that OC had indeed stepped into the fray - I've had this happen before in terms of acquiring much needed resources. If you're doing something which can challenge the status quo, you can expect some interfering resistance. So I'm now midst what I can only call a 'creative flight pattern'. It's where you're totally flowing in the moment and allowing yourself to be completely spontaneous. You see OC cannot handle such flexibility - it's the very antithesis of fear based control (I teach people how to effectively neutralise OC on the Facilitator Program). I now feel completely resolved to finding a base here - if it's the last thing I do, I'm going to do it. It just feels right, and the sense of resolution welled up within and planted an energetic stake of commitment. Somehow, it's simply going to happen!
Strengthening Resolve
All of this has been strengthening my resolve, and aligning the energies within, for the upcoming World Tour, which kicks off in just a few weeks in Avalon and then Australia. I can tell you for sure, that those who attend, will be treated to something truly special - the Openhand energies are strengthening to align with, and facilitate, the Great 5D Shift for people. So you can expect some divine magic to happen. Here's where I'll be, if you can make it - I'd love to see you there...
And don't let Opposing Consciousness play on your hesitation and doubts people - why let them win? When you know it's right, simply dive right in - then you can break that interference for good!
A Bright Openhand Future for La Palma - Guaranteed
In the future, there will definitely be courses here on La Palma - in fact I've just secured the ideal retreat centre for the 2018 NewYear retreat - so people in the community have that very much to look forwards to. It's a high vibe place that readily reminds you of your soul frequency. So although I've definitely been put through my paces of late, the energy is strengthening and converging. It definitely bodes well for the Openhand future. In a world of uncertainty, that is certainly guaranteed. Which synchronistically was the song that came to me on Spanish Radio today. Enjoy...
Blessings to all Open :-)
3207 Reads