The Liberating and Empowering Effect of Radical Forgiveness
Contents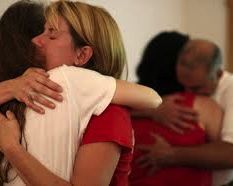 What does it really mean to forgive?
On our course The Transfiguration, we speak about the importance of not apportioning blame and instead taking full responsibility for the lives we're creating. One vital aspect of this approach is that of forgiveness: realising 'the other person' is not to blame and therefore being able to forgive them. In my experience, this is one of the most liberating and empowering things we can do. But if EVERY situation is purposefully designed by benevolence for us to self-realise, then what really is true forgiveness and how should we really forgive?...
Taking responsibility
This is an important realisation in the book 5GATEWAYS: that to blame another is to disempower ourselves because basically we're saying...
"something outside of myself,
over which I have no control,
is the cause of my beingness"
Why would we allow that to happen? How can it possibly serve us? When this realisation first dawns, and we give it breathing space, it is then that the next realisation might dawn: that we're creating every experience anyway by what we're being within. Then an even deeper realisation might occur...
When we look back through our lives with profound self honesty,
and looking at every situation from the perspective of "what was I being invited to realise?", then we'll surely see, how synchronistic patterning guided EXACTLY those situations and circumstances to us. It's as if every person who comes into our lives, helping us self-realise in this way, has a "sacred agreement" to help us evolve.
Finding the blessing
So if this is the case, then it begs the question, if every person who 'commits a crime against me' has a sacred agreement to help me evolve, then what is there to forgive? If in these circumstances we're being offered a priceless gift of self-realisation, isn't that gift something we should be grateful for?
Consider the biblical story of Jesus and his reported relationship with Judas (it matters not whether you believe the story to be true, it's the story itself that reveals important realisations). Of course many have castigated Judas as a 'traitor' in the story, taking his thirty pieces of silver to identify Jesus to the Romans. To me, the crucifixion was a metaphoric example that helped Jesus move beyond his own shadow identity ("why have you forsaken me father?"); in that was caused to realise that he and the father are one (just as we all are), that he could never be abandoned even in the midst of total violation. That it was his own shadow identity seeing itself as separate from the all that is. The crucifixion was Jesus' Enlightenment, perhaps in the story this is what was meant by the statement "it is accomplished" directly before he expired.
So then, if my take on the story bears water, Judas was actually performing an invaluable service not a 'sin' - yes he certainly had his own distortions, but the engagement was created in order for the various parties to expose their own shadows - including his own and that of the other protagonists in the drama. The story itself offers the most incredible self-realisation opportunity for all those who engage with it. As I explained in 5GATEWAYS, I believe the story itself to be a powerful gift to humanity - it reveals the path of Ascension inviting mankind forwards.
Radical forgiveness
So how might the story be relevant and helpful in daily life? Well I invite everyone reading this to deeply contemplate those events where another has 'sinned against us'; to see the possibility for deeper self realisation that was presenting itself; remembering of course that reality is but an ilusion, and to truly know ourselves is to have the opportunity to rise above that illusion - to become complete and whole through the illusion.
This invites something some call 'radical forgiveness'...
It's not simply about forgiving someone for what they're perpetrated against you, because when you think about it, if you truly feel the need to forgive them, then you're still essentially judging them for their 'original sin' - rather than considering you co-created the situation to reveal your own limitation. True forgiveness then is actually to become awesomely okay with what took place, finding peace within your heart, seeing the blessing within the event, taking ownership of the gifts of beingness offered, and then finally, when all judgment has dissolved, forgiving the other person. In a way, it becomes a blessing.
On our Transfiguration course, we guide people through radical forgiveness meditations. People always find them exceptionally liberating. So here below is a forgiveness meditation from the 5GATEWAYS book that you might like to try.
With love and blessings to all
Open
(article updated 24/05/14)
Forgiving another meditation
- Create a loving, warm and protected space with incense, candles and soft music. Relax deeply using deep breathing and visualisation.
- Allow an experience to arise in the past where you have suffered or were abused at the hands of someone else.
- Contemplate deeply the situation where you suffered, visualising what you would have seen, hearing the sounds and feeling the feelings.
- What thoughts and emotions are arising for you? Watch them, feel them.
- Go deeper into the situation and contemplate the main perpetrator/s. What was it that caused you to suffer? What were you attached to? How were you forgetting this is all an illusion?
- Now contemplate what was the blessing? What was the lesson? What were you being invited to realise?
- Can you now let go of the suffering and pain?
- When you know you are ready, feel the darkness gathering into a heavy, dense ball in your right hand and then next see the ball dissolving into light.
- Now visualise the perpetrator. Connect with the soul in them. See firstly their perfected light.
- Can you now let go of your resentment, fear or hate? Can you release yourself from judgment?
- Keep working at it until you can let go of all such negativity.
NB: important note - We understand "Radical Forgiveness" is a trade-marked approach to spiritual healing which we have no connection to and do not represent. We have simply used the title here in this article because it came to mind and seemed appropriate. If you're interested in finding out more about Radical Forgivess (the practice), here is a link to the website... http://www.radicalforgiveness.com/