Submitted by Chris Bourne on 12 May, 2009 - 10:30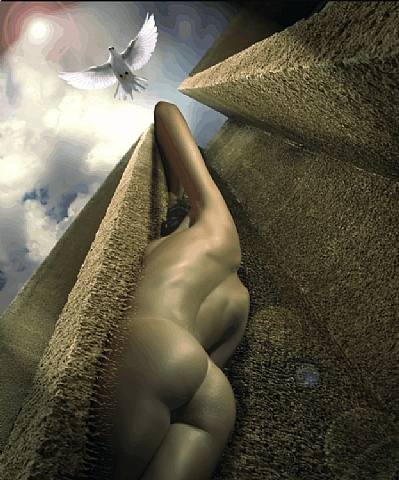 Dealing with pain, discomfort and difficulty
Recently on the Openhand site there's been much discussion about dealing with the pain of the past. Whether we know it or not, we are all being effected by eons of karmic trauma. If you stop for one moment and contemplate the brutality, inhumanity and plain suffering that our race has endured throughout its history, then it should come as no surprise that when we lift the lid on Pandora's box by expanding our consciousness, that's going to come with a good deal of pain. And yet we are each seeded to deal with it. We have the character, make-up and courage to journey through it and process it out. And there is a powerful tool called 'transcendence' that we might make full use of. What does that mean exactly and how could we best apply it?...
Not denial
Let me begin by saying that in my truth, transcendence is not at all about denial. There are some therapies out there in spiritual circles right now that would have us simply ditch our karma. Work such as 'time-line' therapy where we simply blank out what has happened to us in the past and even seek to cleanse the future.
To me, this is completely self defeating. We can best understand this when we contemplate deeply the meaning of the self and the purpose of life. The self is whole and complete. It is the absolute beyond all experience and it is at the centre of all experience. Our purpose is to know ourselves as that. How can we do this if we are intentionally avoiding something? In effect, we would be saying..."no, I don't want to go there because I'm afraid", or..."that would be just too darned painful" "I'd rather life was cosy and pleasant". We're already admitting internally to ourselves that we are not complete and can't accept life as it really is. Of course, it is only the false self that does this.
Our soul is for each person a unique pathway back to the full, unfettered, unrestrained, completely empowered experience of this completeness. But it is completeness in the presence of all and everything. It is not to shirk or shrink from the difficulty, harshness and discomfort we see all around us. It is to surrender, open and expand into it with gentle softness. To risk having your heart shattered again and again and yet still go back for more if it is on our path. Only in this way, is true mastery of life attained.
The only way out is through
I have suffered a great deal of pain and trauma in my life. I have come to know physical, emotional and mental pain very well indeed. I've witnessed great emotional pain as an Officer at war for example and the mental pain the aftermath brings with it. I've endured the break-down of my own family as my 13 year marriage came to a difficult end. And as a student, I learned much about physical pain as a member of the Oxford Boat Race Crew, which involved several hours of arduous training on the river every day, not to mention countless hours pumping iron in the gym and racing around the track.
The Boat Race brings you right to the shocking edge of reality. There's simply no avoidance of the moment. Like the 100m in athletics, it begins as a sprint, the purpose being to gain centre stream and find the best water. The only trouble is, the race then continues for 4 and a quarter bone-crunching miles with neither side prepared to give an inch. Heart pumping, lungs burning, head pounding, every muscle, sinew and fibre screaming "let me out!!!". And yet in the midst of it all, you have to balance the pain with harmony, with deftness of touch, with sensitivity. All 9 people have to be perfectly as one if the power is to be applied perfectly.
We learned that there are several ways you can deal with this pain. Some would block it out through distraction. There was one guy for example who - like the proverbial sheep - used to count every stroke! Somehow this seemed to help, something so simple seemed to take him out of the enormity of the situation. Others were more masochistic. They'd go right into the heart of the pain and lap it up. They'd work to become increasingly tolerant until they actually became addicted to it.
For me though, although I experimented with both, neither of these approaches really worked. I used to row stroke which meant I had to set the rhythm for everyone else to follow. I was good at what I did because of instead of imposing a rhythm on the crew, I went deep into the natural flow and found a harmony that best served all; the natural harmony of men, machine and nature. As I look back, I realised this was only possible by being deeply sensitive to the moment and what was truly being revealed.
So I learned to deal with pain in that way. Not by ignoring it. Not by reveling in it either. Rather I learned to accept it, go deep into the heart of it yes, but I was not looking to glorify the pain. I was looking for something else. That spark. That rhythm. That bit of divine magic. And when we touched it, as we often did, it was like pure poetry in motion. I felt like I had become the poetry. The pain had been transcended into something else. I had reached out and 'touched the face of God'.
Redefine the experience
This then is transcendence. Not to deny and neither identify with it either. But to go beyond by going through. To re-define the experience by finding the taste of the sublime which defines the experience itself. For each of us, that taste will be different, but in some way shape or form, it will be there.
During my work at Openhand, I have been blessed to encounter many truly amazing people. Ordinary people behaving in an extraordinary way. People who've encountered the harshness of life, the pain, pleasure, joy and tears and yet in the face of it all, have found something else.
For example, consider the pain of child birth. It's often construed in the media as being incredibly painful and for many women indeed it was - just like when my own first child was born. Yet since then, I've heard of women, who by careful application of breathing, and being fully present with their feelings, they could go right through the pain and taste the sublime. Some women have even reported going into multiple orgasm as a result!
It's in the sensitivity
I've discovered then that true transcendence comes by actually INCREASING our sensitivity to the situation not decreasing it. Yes it takes courage, but we can build up our ability to apply it by becoming more sensitive to every-day situations.
It could begin for example with the morning shower. After your usual hot one, trying running the cold for a few moments. As the cold iceyness sprinkles on your skin, work to overcome the temptation to jump right out and instead watch closely your internal feelings. Notice how the breathing shallows and quickens as the body tightens. So then bring your attention into the tightening and work to let go. Breath deeply, right down into your body. Watch the feeling of coldness, but don't let it define you. Don't go into drama about it. Simply experience it in truth as it is. Then afterwards, watch the rejuvenating and invigorating effect on your body. To me, it's pure joy!
The same approach can be applied to all kinds of pain and discomfort. Like illness for example or physical exertion. The key is not to allow it to define you. All the while, know that you are an eternal soul beyond the experience and then allow this knowing of freedom, carry you deeply into the experience itself until first you can manage it, then subsequently, transcend it by finding the beauty in it. And there is beauty in everything because everything is of the divine.
Mastery of life
So transcendence then is the real key to dealing with any difficult situation. It works from the simplest of things, like a confusing situation at work, or in relationships with friends and family for example. And it can be applied to the most earth-shattering experiences too.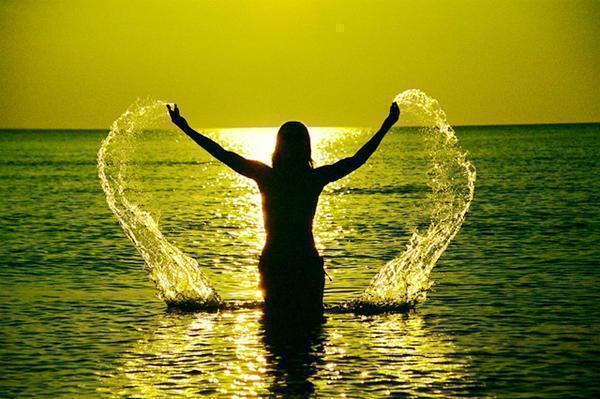 Each is a gold-mine of opportunity. The possibility of discovering something deeper about life and about ourselves. However, to strike the seam, we have to do some digging. That doesn't mean giving up because it gets too hard and neither does it mean blundering around without sense or sensitivity. It means having the courage to accept we're in this particular situation for a reason. Not shirking it, but confronting it. Asking... "What is being revealed to me now? What can I find about myself that is deeper and more divine? Where is the beauty, where is the perfection?"
To me, this is the art of true transcendence. If we can learn to do this, then we master ourselves and we master our life.
Chris
Related postings: